Natasha Lampard
Te Whakatōhea, Ngāpuhi, Pākehā. Co-founder of Webstock. Co-founder of Lil Regie. Creator of Extraordinary Tales.
Photo of Ben taken by the great Mr Tom Coates.
---
Ben Lampard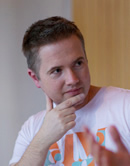 Ben's day job is with a fantastic team at one of New Zealand's favourite companies and hopes his involvement with Webstock helps contribute to all Webstockers having one of the most memorable weeks of their lives while hobnobbing with the best makers and creators from around the world.