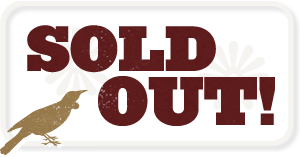 Costs
Main conference (17-18th Feb)
$1195
Workshops (14-16th Feb)
One-day
- discount: $650 (If also attending main conference)
- standard: $795 (If not attending main conference)
Half-day
- discount: $375 (If also attending main conference)
- standard: $495 (If not attending main conference)
But what do you get?
In addition to inspiration, education, jaw-droppingly wonderful speakers and instant street-cred, going to the main conference at Webstock gets you:
the highly sought-after Webstock schwag
a stylish Webstock t-shirt
lunch, morning and afternoon teas
free Peoples' coffee and free ice-cream all through the conference — as much as you want!
a drink and food at the Thursday evening event
free entry, drink and food at the Webstock after-match function — from conference close till the wee hours of Saturday morning.
a super awesome time
And don't forget to book your place at the Grand ONYAs Awards Dinner happening on Saturday 19 February. Tickets are limited - and you won't wanna miss this so be in quick!