Lisa Herrod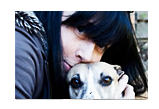 Lisa Herrod is the Principal User Experience consultant at Scenario Seven with over ten years of hands-on experience on the web. She has a background in standards focused design and development and the last 6 years of her work has centred on design research, usability, accessibility and user experience strategy. Lisa believes in an inclusive, holistic approach to user experience design that permeates every layer of a site and every role on a team.
Her clients range from small, non-profit organisations through to large multinationals such as Macquarie Bank and Microsoft.
Lisa is an experienced lecturer and conference presenter. She has written on the user experience for Sitepoint, A List Apart and for anyone who stumbles upon her at Scenariogirl.com.