Mark Pesce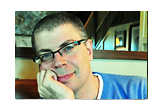 Mark Pesce, Inventor, Writer, Educator and Futurist. Known internationally as the man who fused virtual reality with the World Wide Web to invent VRML, Mark Pesce has been exploring the frontiers of media and technology for a quarter of a century. 
His work has kept him on the forefront of emerging developments in science, technology and media.  With a unique ability to make abstract concepts clear for lay audiences and to further the knowledge of the technologically savvy, he is a highly sought-after public speaker, lecturing throughout the world on a variety of topics – from the latest trends on the Internet, to current developments in neuroeconomics, to the future of design in an energy-conscious world.  Pesce is first and foremost a storyteller, taking everyday examples from the world around us, then using these to illuminate the finer features of world that seems to be changing more rapidly every day.
The author of five books and numerous articles, Pesce is widely respected as a technologist, futurist, philosopher and communicator who can translate abstract concepts into concrete explanations. Mainstream publications such as Forbes ASAP, TIME Digital, WIRED and The New York Times have profiled him and his views on the interactive era. A well-respected journalist, Pesce has written for WIRED, Salon, The Age, ABC Unleashed, and NETT.  For the last five seasons, Pesce has been a panellist on the hit ABC show THE NEW INVENTORS.
From 2003 to 2006, Pesce chaired the Emerging Media and Interactive Design Program at the world-renowned Australian Film Television and Radio School.  His mandate - to bring cinema and broadcast television into the interactive era - led him to create a program that encouraged creative vision and is now producing a generation of award-winning entertainment professionals who are shaping the media of the 21st century.   
Pesce currently holds an appointment as an Honorary Associate in the Digital Cultures Program at the University of Sydney, and in 2006 founded FutureSt, a Sydney media and technology consultancy. Working with clients such as Telstra, Lonely Planet and Amnesty International, Pesce brings his encyclopaedic knowledge of technology together with a consumer-focused sensibility to refine clients' products and strategies.