Scott Thomas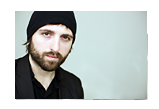 Scott Thomas is constantly seeking the simplest answer to complex problems. Scott began his design pursuits studying architecture before bouncing to graphic design and web development.
Prior to moving to Chicago, where he set his sights on user-experience design, Scott called London's Shoreditch home. From products to websites, Scott works to simplify the experience of use.
In 2006, he and five other creative types began a design collective, lovingly known as The Post Family. The group is devoted to supporting "family" members' design habits - from silkscreen to letterpress, from illustration to blogging - in an effort to "get back to the hand."
In 2007, Scott's career took a dramatic leap when he was invited to join the New Media team at Obama for America. The chance encounter led Scott to becoming the Design Director of the historic Obama Presidential campaign. He is currently writing a book that explains how an obscure senator rose to the highest office in the land and celebrity status with the aid of branding and design. Scott plans to continue designing for social causes that might just someday change the world.