The brief: Tell us about 5 songs *and/or* films. It could be the ones you think are the greatest. Or that move you most. Or that are under-appreciated. Something along those lines.
The people: Webstock speakers and assorted Webstock people.
Today with Aarron Walter, who writes, "These are five of my favorite albums in my collection. I chose them because they've taught me something about creative thinking, collaboration, and taking chances."
Son House: Father of Folk Blues
Contrary to legend, Satan didn't give Robert Johnson private guitar lessons; Son House did. House's influence has been felt by everyone from Muddy Waters to The White Stripes and so many in between. Despite his influence, there are precious few recordings of his work. In 1965 he laid down some killer tracks for Columbia.
I love the storytelling on Death Letter Blues, and the depth of the sound Son House extracts from his dobro.
His acapella track, Grinnin' in Your Face, reminds us not to listen to our critics, but to just do your thing. Sage advice packaged in masterful music.
James Brown: Grits and Soul
I love James Brown for his hustle and unending, funky passion. But when you think of the Godfather of Soul, images of sweat and capes come to mind, not swingin' organs (not that kind of organ). But that's what you'll find on Soul and Grits. These instrumentals shake rumps with an early '60s swing ala Austin Powers. I didn't see that comin'.
Charles Mingus: Ah Um
This record is church. It's moved by the spirit, and explodes with joy before becoming reflective and somber. "Better Git It In Your Soul" is inspired by gospel singing and preaching of the sort that Mingus would have heard as a kid growing up in Watts, Los Angeles, California.
While "Goodbye Pork Pie Hat" is a reference (by way of his favored headgear) to saxophonist Lester Young (who had died shortly before the album was recorded).
It's clear that Mingus put his heart and soul into this record, and for that I love it.
Milt Jackson and Ray Charles: Soul Brothers
This record is full of surprises. Vibraphone virtuoso Milt Jackson, best known for his work in the Modern Jazz Quartet, absolutely shreds on guitar (who knew?!) and even plays piano on this record. Considering he's collaborating with Ray Charles here, that's kind of amazing. Did you know Ray Charles played alto saxophone? Yeah, me neither, but he does here while Milt backs on piano. No vocals here. No Ray Charles hits. This record will show you what real creative collaboration is all about. These guys give and take, experiment, and venture out of their comfort zones to create a brilliant piece of wax.
The Quintet: Jazz at Massy Hall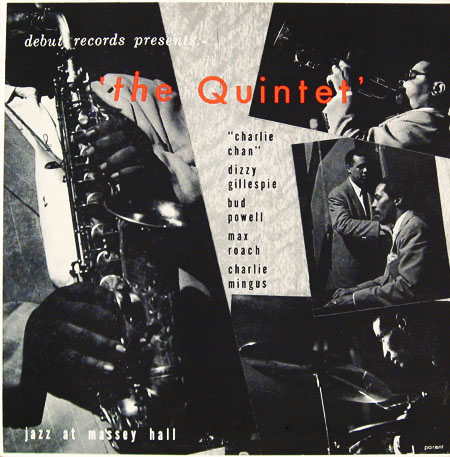 Jazz at Massey Hall captures a historic live performance by "the Quintet" given on 15 May 1953 at Massey Hall in Toronto. The quintet was composed of five pioneers of bop: Dizzy Gillespie, Charlie Parker, Bud Powell, Charles Mingus, and Max Roach. It was the only time that the five men recorded together as a unit, and it was the last recorded meeting of Parker and Gillespie. Due to contractual agreements with other record labels, Charlie Parker is listed as "Charlie Chan" on the record.
This is quite possibly the most amazing recorded jazz performance ever.