It's Webstock Week this week! YAY! If you're coming along on Thursday and Friday, here's a sneak peek at the schwag you'll receive.
We've tried to select things that aren't bad for our planet – stuff that can be reused, recycled or repurposed. Here t'is:
Webstock t shirt
T shirts in many sizes: small, medium, large, xl and 2xl, made by ASColour, and produced under safe, fair, legal and humane working conditions.
Notebook & writing implement
A fine-looking, sustainable repository for your notations, ruminations, ideations and illustrations, made from paper given a second chance at life! These have been handmade by Misprint and Wakefield Digital, specially for Webstock.
By repurposing this paper we've saved 200 litres of water – 266 standard water bottles!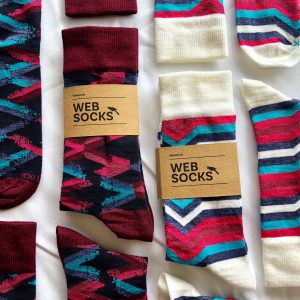 A Webstock water bottle
The official Webstock water bottle to keep you hydrated, activated and captivated! This receptacle is made of recyclable BPA-free plastic and can be operated one handed with a simple push of the button! The bottle has the look of glass, but neither the heaviness nor the breakability, and it's recyclable at end of its life.
The receptacles are reusable, durable, stylish and come with a spill-resistant lid and a drinking hole is designed for optimum liquid flow.
By using your Webstock receptacle instead of plastic water cups, you're limiting the amount of unnecessary waste to landfill and helping make the Earth cleaner and happier.
Webstock web socks
Merino blend business socks, knitted from the finest natural and performance yarns, perfect for business time and other times too.
A Webstock bag!
This year's bag has been made with repurposed materials used in Webstocks-past: banners, signage, and other event-accoutrement. They are a restropective, a time capsule if you will, of Webstock over the years.
Flexible, functional, sturdy and stylish, they are a multiple-purpose tote – perfect for the shop, the beach, the bbq, the pool, the plane, the park, the laundry, the laptop, the kids, the cat, the dog, the day trip, the holiday, the heist. We could go on. It's a damn good bag.
SaveSaveSaveSave
SaveSave
SaveSave
SaveSave
SaveSave
SaveSave
SaveSave